So, for about a year I've been making these mixes for my friends. Last summer it started out as a CD I just threw together for a long drive called "Funplex". It basically just had fun, upbeat, "unknown" songs on it. Not really club/top 40 songs, but everyone took a liking to it and demanded moar.

Another series of mixes called "Party People" eventually stemmed from that, because I wanted to make club/hip-hop/top 40 mixes that was more accessible to everyone (errbady).

So far I have seven mixes in both Funplex and Party People titles, and more and more people keep asking me "for a copy". So, instead I've decided to share them with the internets... and I can't keep buying CD's lol. I'm poor.

They're nothing that anyone else can't do, but I've basically just done all of the work for you instead of you having to go through the net looking for the latest 'n greatest.

Here's the latest Party People, and I'll start posting all the others, including Funplex's 1-7, once I get everything uploaded and covers made. Currently making #8 now. Hope you enjoy!

And Chapter 2 of my book will be finished by the weekend. I swer ta gaw.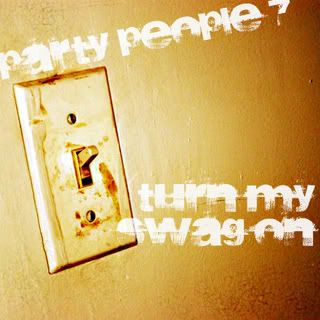 01. Gangsta Sermon [Intro] - Warren G
02. Punk Bitch - 3OH!3
03. Ghostride The Whip - Family Force 5
04. Patron Tequila (Feat. Lil' Jon) - Paradiso Girls
05. Love Struck - V Factory
06. Sickology 101 - Tech N9ne
07. Imma Be - Black Eyed Peas
08. Money Honey - Lady Gaga
09. Turn My Swag On - Soulja Boy Tell 'em
10. Booty Call (Feat. E-40) - Brokencyde
11. '94 Ho Draft [Interlude] - Warren G
12. Shawty Wats Up (Feat. T- Pain) - Day26
13. Fire Burning - Sean Kingston
14. Goodbye - Kristinia DeBarge
15. I Am The Club - Skull Gang
16. Cookies n' Apple Juice (Feat. Skitzo & Byrd Lady) - Cam'ron
17. D'ough - Unladylike
18. Overtime (Feat. Akon & T-Pain) - Ace Hood
19. She's Fine (Halle Berry) - Hurricane Chris
20. Drunk As F*ck [Bonus Track] - Tittsworth

Download

<33